Companies have been using spy technology right under peoples noses. In trade we have given or personal privacy for convenient "Apps". These Digital applications have forced people to sign over agreements in small print in order to make use of these apps.
These are 5 ways Companies are tracking you with out your knowledge or consent.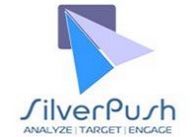 5.Silver Push
Spy ware that can track a person through all their devices bouncing from each devices microphones and speakers. This software can tell corporations if your at your desk, in your car, if your just standing in a alley talking to a friend. This us done using smart phones, computers and even your television. This software is currently monitoring 18 Million using 67 "app's".
4. FaceFirst / Face-Six
Stores are now building Data Bases in their Camera and other systems with BioMetrics. Each visitor's face is being marked and profiled. So when a return client is recognized a alert is prompted with the clients biographical information. Turning your face into a real life browsers cookie. Retailers and advertisers are now able to track you while you are not online as well as mark you as a "Good" or "Bad" Customer. Another major concern is not only are stores doing this but places like Churches have also begun using this technology to track and profile visitors. Soon you will be identified any where you go with out even saying a word or showing ID.
3. Vizio / Samsung
Over 10 Million Vizio TVs collect "Highly specific viewing behavior data on a MASSIVE scale with great accuracy". This may be the reason these televisions are so affordable. This is a Trojan horse scheme. Vizio refers to this monitoring of your activity as "Smart Interactivity" which is just
a spin. Trying to make the viewer allow monitoring of their viewing with doubles speak.
Monitoring what you view for your benefit.
This is not the case, this monitoring is recorded by Data Brokers in order to SELL "Hundreds of Attributes linked to your IP address.
Companies like Samsung and others are recording from their "SmartTVs" warning users that anything you say even personal information " will be among the data captured and transmitted to a 3rd party". Basically saying it is our right that anything you say or do that is recorded by our tvs can and will be given or sold to any one of our choosing. This being Government, Corporations or Privet or public Organizations. So for the right price any one can monitor you from your "Smart TV". How smart is that.
2. Ditto Labs
Every day people around the planet are sharing more then 800 Million photos publicly on the internet through social media. Your friends are not the only ones following your life from your selfies. Ditto Labs uses image scanning and facial recognition software to mine your images for corporate brands. This software has the ability to scan your picture for logos and products and measuring your expressions to track how you feel about these products. This gives a whole new spin on the term coke smile. So while you are doing your unboxing video these company's are using this information to build privet online profiles of you creating "branding opportunity's". Ditto Labs CEO David Rose said "If i looked at two years of your photos, I could tell alot about you".
To a some one who is trained in social engineering this is a powerful tool. With a profile like this you can be easily persuaded and ushered into any direction these company's see fit.
1. Carrier IQ
In 2011 over 120 Million cell phones by major phone manufactures were installed with "Carrier IQ".
A diagnostic rootkit that secretly records text messages, phone numbers and your GPS locations data.
Carrier IQ denied storing and sending this information but at the time was trying to create a partnership with Nielson which is a American global information and measurement company. Carrier IQ also advertised they had the capability to provide "real-time data direct from the source - your customers' handsets." Their have been requests for FBI documents related to Carrier IQ. These request have been Denied, citing
"pending law enforcement proceedings". This all means that the FBI may have been accessing your data through government programs still in progress today. So the release of this information may put these programs in jeopardy. In other words we cant tell you we are spying on you cause then it wouldn't be spying.